I've spent over a year in Madrid, loads of time in Italy, but only 15 days in France over my lifetime.  But last January, with 8 months of Rosetta Stone French, Russ and I headed to Paris, Lyon and Avignon for 10 days.  It rained in Paris.  It snowed in Avignon.  It got me.
A month later, the idea of this 3 month cooking trip bloomed.  I've luxuriated in anticipation of my return.
For the last year, I've practiced.
I learned to cook with Julia and Mastering the Art of French Cooking, James Beard, Jacques Pepin – that's how I began cooking to avoid the tediums and terrors of law school.  But now I've gotten the new chefs' books (Ducasse, Anne Sophie Pic, Guy Martin).  The books are very French – high in production values, not as much technique detail as would be useful, and 6 point type in pale grey against shimmering cream colored paper.  But I've had fun thinking in terms of tasting first with your eyes.  Here – I made this up: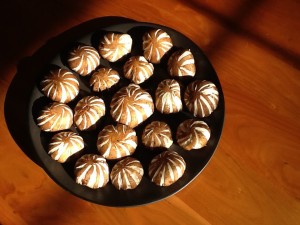 I've practiced silly, 1960's vegetables from Julia:
And compulsively worked on the greatest Lyonnaise baguette taste, texture, crumb, with American flours and 48 varieties of liquid levains.  We're getting close.
I've make countless versions of boeuf bourguignon and its cousin, chicken fricassee.  They're glorious and are in little individual packets in the freezer.  I've discovered that it's crucially important to use grain-fed beef (chuck or tri-tip) and non-hormone-fed chicken for these.  The others just don't brown properly and taste nasty in comparison.
Here is a row of elegant salads (greens with vinaigrette, pear and almonds) that our wonderful group of Minnesota  cooks did for their graduation dinner.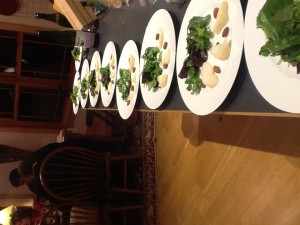 Then, just to Be Prepared, I learned to use a pastry bag in January, since I haven't been much of a dessert person.  Here's one over-the-top version (okay, more like Princess Diana's wedding dress, but one goes berserk with good pastry bag tips.)
The chocolate cake, raspberries, tempered chocolate shards and raspberry coulis at the top might look French.  I'm thinking so.  And also the chocolate gateau at the bottom, courtesy of David Lebowitz (The Sweet Life in Paris, FABULOUS book) is more French.  My 10 year old friend Kate, who has an incredible feel for cooking and I did this, so we did not only made marzipan roses on a very french chocolate gateau, but also marzipan mice).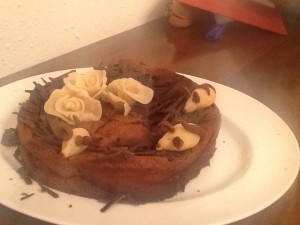 I'm ready to go learn from the guys who really know how to do it, I think.